RELIVING EMOTIONAL MEMORIES

Why did a war veteran react so emotionally when he looked at my sculpture in the Arthall gallery?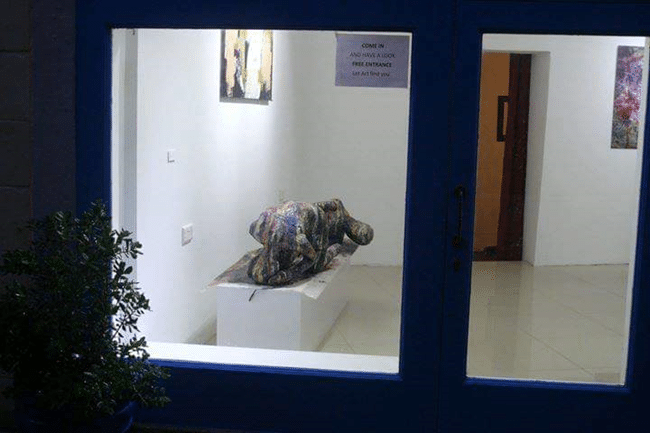 The story begins when Steve, a war veteran, came bak to the gallery a few weeks after he was so emotionally moved by my sculpture "Self Esteem", photographed here through the gallery window.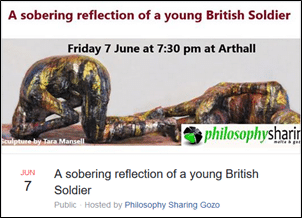 Steve's story was full of horror and betrayal:
His father had signed him up for the army when Steve was only 15 years old without telling him
Friends were killed and blown up in front of him in Ireland and Afghanistan
He married to avoid living in barracks
After 30 years in the army, he left without a job, divorced and homeless.
Steve was institutionalised and suffering from PTSD
Alcoholism meant that he couldn't remember much of the next 10 years. Mostly out of work, he tried to commit suicide several times.
Eventually, Steve was approached by the charity Combat Stress who offered him help for his PTSD.
Steve found he enjoyed art therapy and had a talent for poetry
He shared some of his art and read some of his poems with us, often breaking down into tears, reliving the emotions which they brought back
It was fascinating hearing how psychologists had interpreted his art, finding hidden emotions and feelings
Speaking privately afterwards, Steve explained that he would have liked to buy my sculpture because the bodies reminded him of how, at his worst, he had mentally curled up when he couldn't face the future. That the coloured threads on the surface for him represented the thin strands he had clung to in the hope of recovery.
Meeting Steve Has Changed My Life
Jewellery has such personal meanings. Whether it is an inherited heirloom of great value or the inexpensive Christmas earrings you wear every year, jewellery often has an emotional connection.
Because great jewellery tells such an intimate story, I decided to research the topic as part of my degree in Jewellery and Metal Design at the University of Dundee (DJCAD), which I am happy to share with you.
Steve was so sure that Combat Stress had saved his life that I got in touch to see if I could help them raise money.
SO WHAT CAN WE LEARN ABOUT EMOTIONAL DESIGN?
Steve experienced a strong response to the sculptural design because it subconsciously reminded him of intense emotions he had experienced in his life.
READ MY NEXT POST TO SEE WHETHER THERE IS EVEN AGREEMENT ON WHAT EMOTIONS ARE …..

Arthallgozo.com. (2019). ArtHall – Let Art Find You. [online] Available at: https://arthallgozo.com/ [Accessed 7 Aug. 2019].
Facebook.com. (2020). A sobering reflection of a young British Soldier. [online] Available at: https://www.facebook.com/events/366877587279808/ [Accessed 7 Jun. 2019].
Combat Stress. (2020). Mental health support for veterans. [online] Available at: https://www.combatstress.org.uk/ [Accessed 6 Aug. 2019].