UNLEASH YOUR CREATIVE SIDE, COLLABORATE WITH TARA
Tara Lois is unusual in the world of professional luxury bespoke jewellery design; in that she is a qualified contemporary designer, classically trained as a goldsmith in handmade fine jewellery and, an artist/sculptor whose work has been exhibited.
Her modern bespoke jewellery design evolves after discussions with clients. She listens to their life stories. learns about their family, ambitions and emotions. If there is heritage jewellery to incorporate, she explores the relationship and associated memories.
Clients receive a mood board including 3 designs which may be either hand drawn or iPad sketches. Tara Lois will guide you through the commissioning process until a design has been finalised.
Every unique piece of bespoke jewellery design is one-of-a-kind, a work of art created with passion, as well as an engineering prototype. Tara Lois believes that the hand of the artist should always be visible and adds to the beauty of her jewellery, so if you look carefully, there are always tiny traces of the hand making process.
Tara Lois' jewellery is so eye catching that everyone will be drawn to it, ask about it and be amazed by the story behind it, if the owner chooses to share…
How would you mark a life event? With jewellery of course!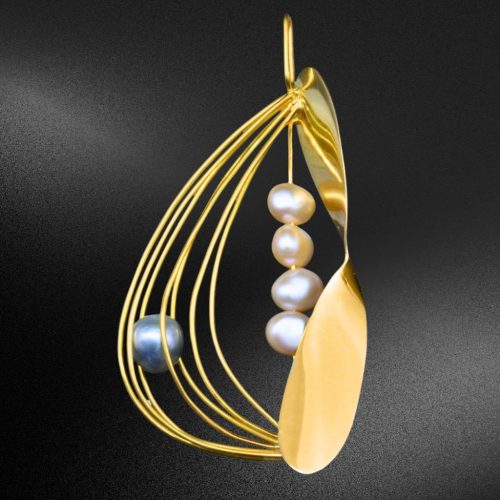 When Paul retired, he considered buying himself the traditional watch, until he realised that Tara Lois would design jewellery exclusively for him, which said more about his life story than a watch ever could.
He had had a successful career in aviation and, after his retirement, he planned on following his passion for sailing and spending more time with his family. Paul specifically asked for pearls in a pendant.
After a complimentary consultation, Tara normally prepares 3 designs but Paul insisted that he did not need to see any more after the first design, because "it was already perfect".
Tara's design included a stylised aeroplane propellor opposite a billowing sail. Within the wire sail was a free moving Tahitian pearl representing Paul's free-spirited wife. There were 4 pink pearls which moved along a wire, 1 for each of his children who are central to his life.
Tara began by cutting the shape of the propeller from recycled gold, which she heated and twisted until it took the right form. She gently heated and curved the wires into the shape of a billowing sail. The challenge was how to add the fragile pearls to the gold. Since they cannot be heated, Tara developed a solution, adding them at the very end of the making process.

"The beautiful propeller represents all my working career in the aerospace industry, my love of sailing and then, my four beautiful children and my gorgeous wife. All represented in one beautiful pendant that can be worn and shown off to everybody. It's absolutely fantastic You did a marvellous job. I really appreciate it."
PAUL
What can you do with jewellery that is not your style, does not fit or is broken? There is a solution.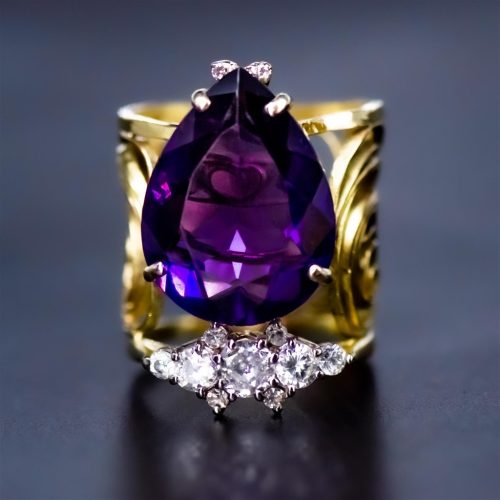 A loyal Tara Lois client had diamonds, which had originally belonged to her grandmother and, which her mother had had remade into a single ring.
The ring had enormous sentimental attachment but it was too small to fit her fingers. Also, the style did not suit her. In her jewellery collection, she also had a large antique amethyst pendant with two small diamonds which she also never wore. Her brief was to create a new ring which would "sparkle".
The client approved a design which incorporated both the amethyst and diamond ring, set in a wide gold band designed using stylised Maltese filigree.
Tara used the client's own recycled gold which had previously been melted and created fine ribbon. This was carefully curved into filigree forms and soldered together.
It was then joined to a thicker wire forming one end of the ring shank. The flat filigree shank was carefully curved and soldered to the diamond ring. The amethyst was removed and the stone's collet was reinforced with more filigree before being soldered to the new wide ring.
After the amethyst was re-set, the ring was polished to make sure it "sparkled".
With the client's support and votes from people around the world, this ring won the prestigious People's Choice Award.  Now, this social media celebrity has even more memories associated with her new ring design.

"Tara you have reworked my grandmother's and mother's jewellery into this stunning wearable piece full of memories and sentiment. Thank you. Your jewellery is awesome and I couldn't recommend you more."
PENNY
You want the proposal to be a surprise? You want a deeply personal design? You are worried they might not like what you choose? Here is how to have it all.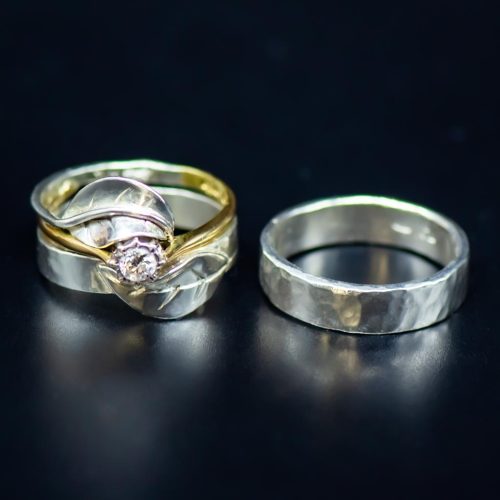 At the first consultation, Tara met the future bride and groom. The bride's brief was for an organic design in white gold, ideally incorporating her grandmother's diamond solitaire set in yellow gold. The groom had never worn jewellery, and so he requested a simple ring designed to match the bride's rings.
Three designs were developed for the couple to choose from and then, after a revision, they both confirmed their choice, so the groom already knew that she loved the design. After that, the bride was left guessing.
The groom was the only person involved in pricing discussions and he was the only point of contact during the creation process.
Tara melted and formed white gold herself. The engagement ring merges the heirloom diamond solitaire in yellow gold together with a white gold band, including an organic stylised curved leaf to protect the antique diamond setting. The wedding ring has another leaf. When the rings are stacked together, her grandmother's diamond appears to be embraced by the leaves of the new rings.
Just as the groom had asked, his ring was a simple band from the recycled white gold, but it was the same width are the bride's rings and hammered with the same texture.
The engagement ring was supplied in a sustainable ring box, so that the groom could traditionally go down on one knee and open the box when he asked, "will you marry me?"
This is the text message received from the bride immediately after the proposal. Remember, she had not even seen photos of the rings before the proposal.
"Tara 😊 he's just asked me, now 😊. The ring is absolutely beautiful. I absolutely love it ❤️ ❤️. It's beautiful."
Z (and D)
Have you thought about selling heirlooms but hesitate because they are wrapped up in memories? Maybe there is an alternative.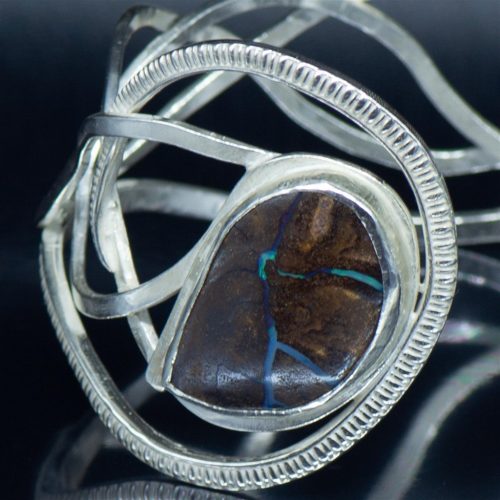 Carole had inherited a sterling silver tea service which had strong memories associated with it, but she was tired of polishing and never using it.
When she approached Tara Lois, she was coming up to a milestone birthday. Knowing Tara's reputation for designing new jewellery using heirlooms, she asked Tara to design a modern cuff which she could wear every day, made by melting down the silver of the tea service.
After learning the story of the tea service, Tara surprised her by designing a cuff which incorporated the textured rim of the sauce boat. The design options included different stones from Tara's stock of sustainable gems and the client chose a veined boulder opal.
The first step in the creation process was to melt parts of the sterling silver tea service to create a single length of ribbon. Tara heated, twisted, bent and curved this length of ribbon into the design for the cuff. Adding the original textured ribbon to complete the shape before setting the opal.
"I used to work in the jewellery sector, so I have seen a lot of jewellery in my time. I can honestly say that Tara's designs are unique and her workmanship is excellent. I wear my cuff every day. It has my family memories but also celebrates my own life achievements. Whenever I look at it, it makes me happy!"
CAROLE