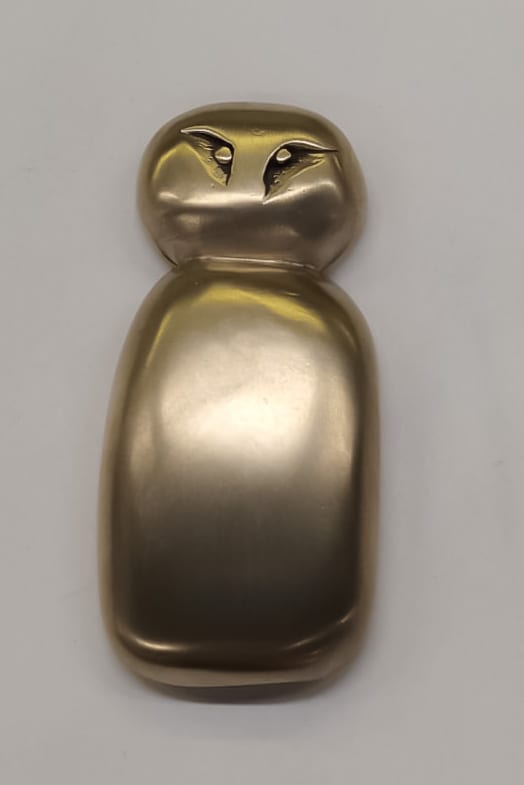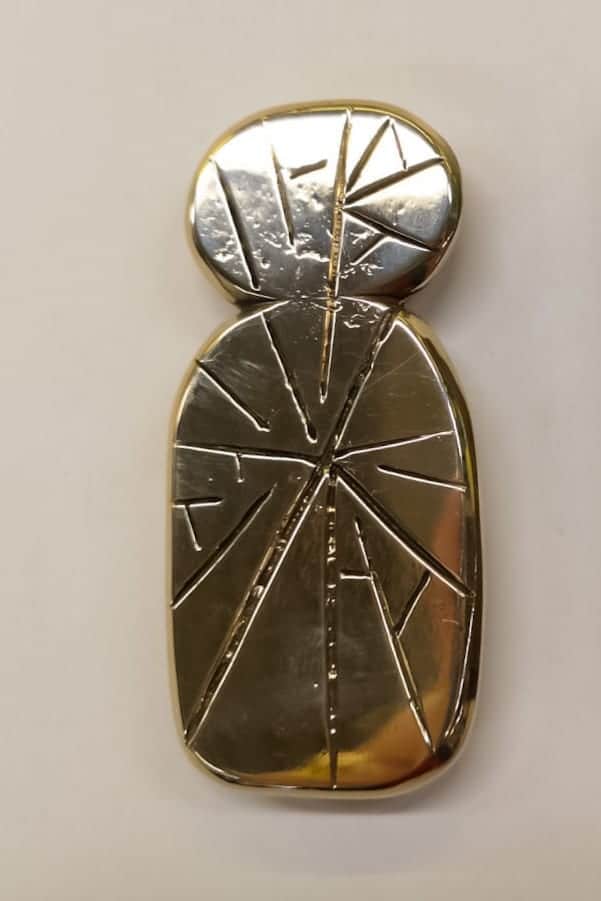 Cast in bronze, Approx: h 6.5cm x w 3cm x d 0.7cm, weight 85g
The design of this Wellness Talisman has been extensively researched to help a wide range of people.
I was suffering from stress so I joined a mindfulness class which radically changed the way I behaved. Still, I found meditation and sitting still difficult until one day I realised I was able to stay still when I was holding a small lump of metal from the jewellery workshop.
This led me to talk with my friends and I realised that they were calmed by the warm metal as well.
I organised interviews with with different people, including talking to people running and attending mindfulness classes. I spoke to members of yoga and spritual groups and lastly I interviewed people who had experience of mental health issues, including social anxiety.
I realised how important it was that they had something personal which they could touch and which would help them all the way through their daily life, not just in classes.
The outcome was this Wellness Talisman.
The Design Process
The Talisman is designed to be carried by people, fitting perfectly in the palm of the hand or out of way in a pocket.
Most people wanted a combination of weight and warmth because these have a pleasurable, calming effect. Almost half wanted a smooth surface which they could rub while others found tracing lines more calming.
The initial design had two flat sides. A normal smooth body on one side and, on the other, I created a cracked texture which could be traced.
I decided to cast the Talisman in bronze, which is an alloy of different metals. Symbolically this represented how different people would benefit in their own ways from the same design.
Bronze is very hard wearing, warms up quickly when it is held and will patinate in a unique way over time as it is touched, so each one will become unique to its owner.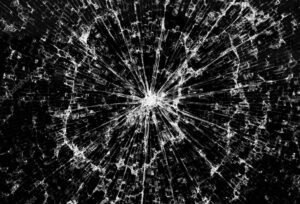 Initially I carved wax into a rectangular shape with designs.
The feedback I received was that this design had the right symbolism but everyone said that they wanted a shape that was more tactile. They wanted something familiar but different.
In response to these comments, I redesigned the Talisman with a stylised curved human shape with a simple face. I kept the cracked effect on the back. It was important that the size was easy to hold in the hand and not too heavy to keep in a pocket.
The Making Process
Once the wax design was created, it was surrounded in a 5 layers of special heat resistant plaster. Other students had pieces to cast, so several were combined in a single mould, connected by wax tubes to let air escape and bronze flow between the designs. This plaster mould was fired in a kiln upside down to let the wax run out, leaving a void in the shape of the talisman.
The master cast was filled with liquid bronze in the foundry which you can see in this video. Ignore the sound effects which were my from my fellow students as we all watched the casting process.
After casting, the Talisman still had parts of the bronze tree and other imperfection which I removed with a hammer and flat ended chisel.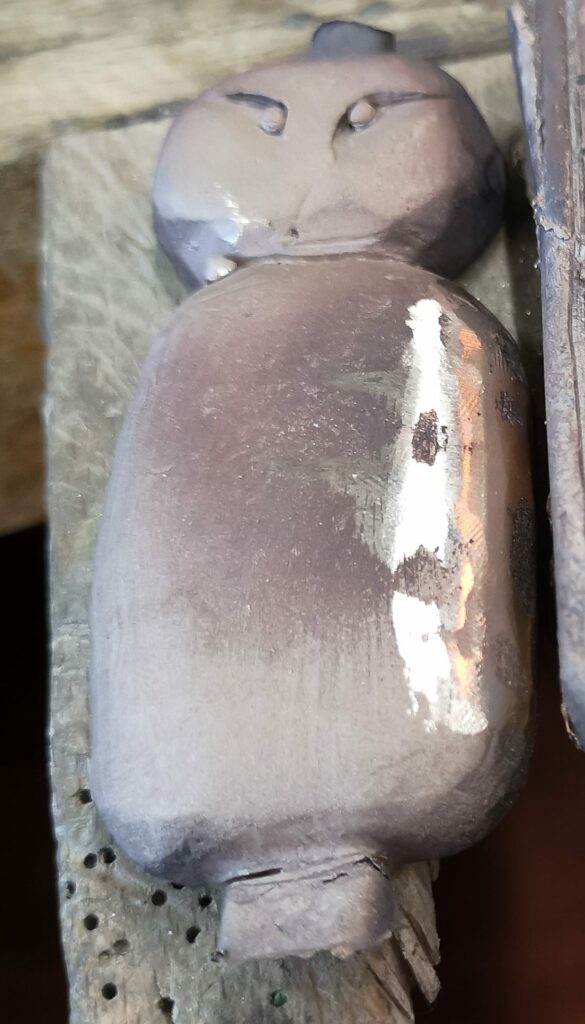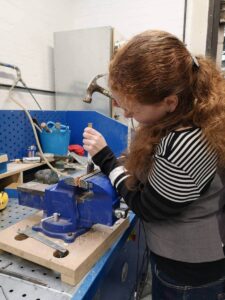 The next step was to smooth the surface using files and then emery paper.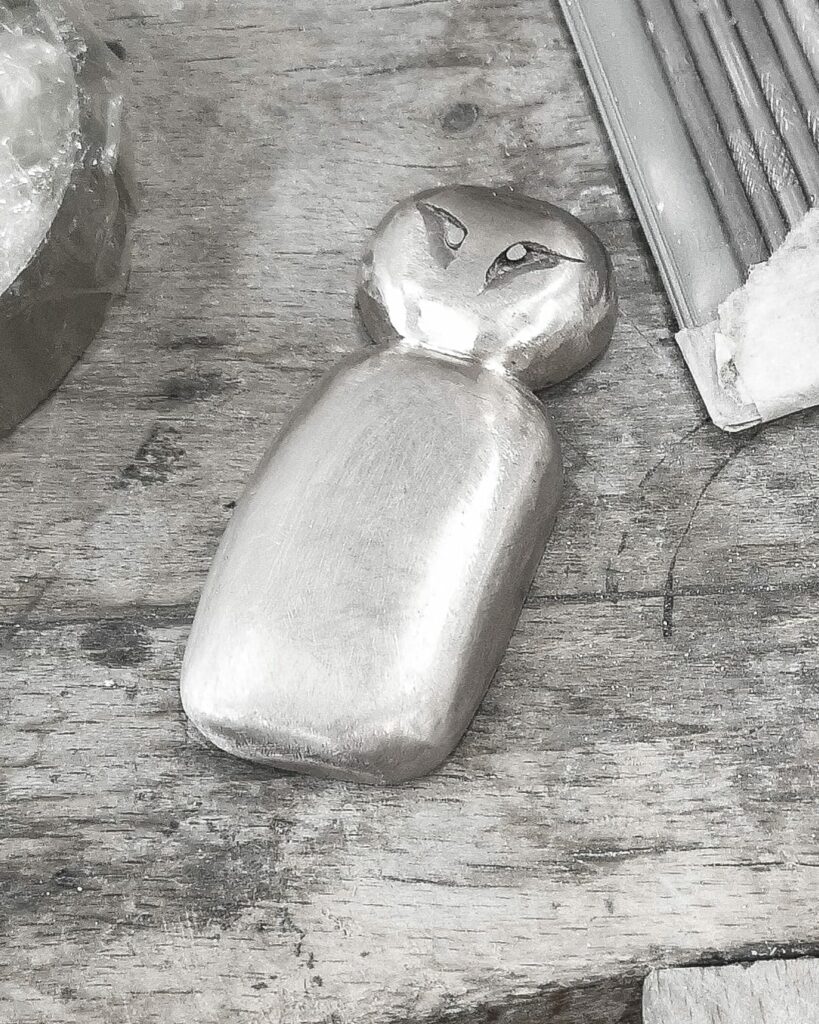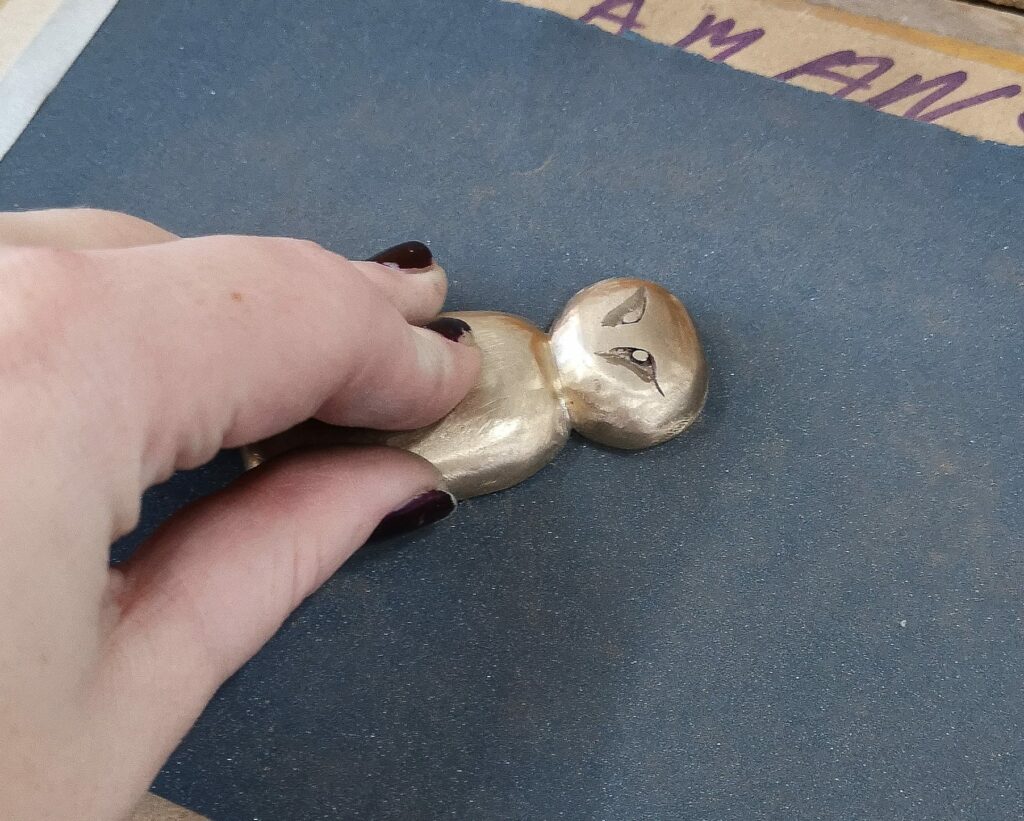 To achieve a truly therapeutic, sensory talisman, I applied a high polish to the flat back so it felt like a broken mirror. The curved body was burnished for a softer matt tactile sensation.
I kept my "wee man" on my workbench but I realised he was constantly being borrowed by other students. Then people at the mindfulness class asked if I could make them a talisman.
That is when I decided to make more by using my original as a master cast. This is one of the few times my designs have been reproduced but I only gave the copies a light clean. That way every one is still slightly different.
As owners touch them and rub them, their medal will develop a unique patination reflecting how the owners have touched them.
A Talisman for wellness whatever the reason.
Click here if you would like to buy your own Wellness Talisman.