WHAT ARE VISUAL CUES AND ARE THEY UNIVERSAL?

I approached Keycomm, a group which works with Edinburgh City Council and the NHS to develop language support systems for people with communication disorders.
Keycomm uses Alternative and Augmentative Communications (AAC), a range of games, videos, posters and communication boards developed specifically to meet an individual's needs. This example uses the vocabulary from the, Very Hungry Caterpillar book.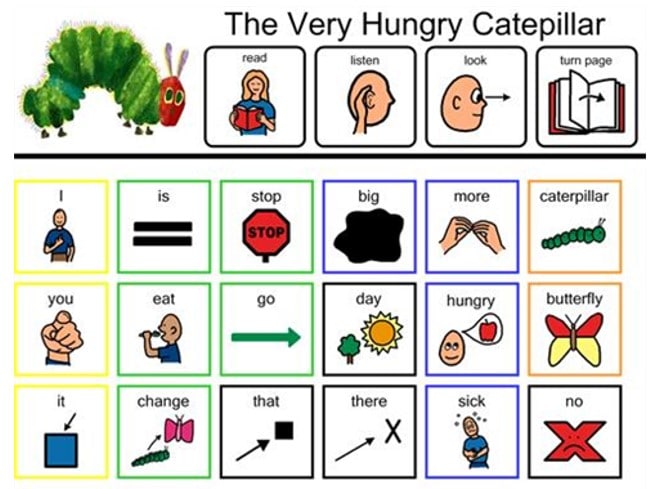 Associating images and words enables the person to communicate without speaking or even knowing the word.
Apparently, a serious limitation with AAC is that people with learning difficulties often do not understand emotions and feelings, so it is impossible to create a recognisable image for them.
This is the best emotions board I could find. Some of the images match the emotion eg. "sad" and "tired", but "frustrated" and "out of control" seem interchangeable.If micro-facial expressions are universal (See Post 2 in this series), then the AAC images representing primary emotions should always be recognisable, but they are not.
Modern emojis were developed in the 1990s by Japanese artist Shigetaka Kurita who wanted a simple icon to convey information.
Now, there are lots of emojis with a similar style across social media. This emoji chart includes labels for emotions and feelings, like the Keycomm boards.
If these emoji labels are right, I have been using some incorrectly, like using "laughing" for silly me. Maybe you have been using emojis differently too.
An Emotional Response to Visual Cues
Emojis can offer a visual shortcut to emotional responses in design, which Hollie Paxton proved with her series of work:  Feeling Happy. She designed buttons for everyday objects which left a smiley imprint on people's fingers.
SO WHAT CAN WE LEARN ABOUT EMOTIONAL DESIGN?
Hollie Paxton's work proves that universal visual cues can act as shortcuts to consciously elicit emotions but these don't trigger subconscious emotions at the universal level.
READ MY NEXT POST TO EXPLORE THE RELATIONSHIP BETWEEN COLOUR AND EMOTIONS …..

NHS – National Health Service
Learning difficulties – A difference between what someone is expected to be able to do for their age and their actual abilities. Includes: dyslexia, ADHD (attention deficit hyperactivity disorder), ADD (attention deficit disorder) and people on the autism spectrum
Micro-facial expressions – very fast changes to our faces. Everyone has the same expression for the same emotion and so they are universal visual clues to how someone is feeling
Emoji – A small image used to communicate information without using words
Very Hungry Caterpillar – A children's book by Eric Carle
Pinterest. (2020). Flipbook via Boardmaker Share | Communication book, Speech language therapy, School social work. [online] Available at: https://www.pinterest.fr/pin/301600506269893354/ [Accessed 14 Nov. 2019].
Research Gate. (2014). The Historical & Theoretical Foundations of the Investigation of Digital Media Interaction (or Digital Pragmatics) [draft]. [online] Available at: https://www.researchgate.net/figure/Typographical-art-and-the-proto-emoticon-from-Puck-Magazine-no-212-p65-March-30_fig1_267695183 [Accessed 22 Nov. 2019].
Pardes, A. (2018). The Complete History of Emoji. [online] Wired. Available at: https://www.wired.com/story/guide-emoji/ [Accessed 20 Nov. 2019].
Pinterest. (2020). What every emoji emotion actually means picture
| Every emoji, Emojis meanings, Emoji dictionary. [online] Available at: https://www.pinterest.fr/pin/619245017490946593/ [Accessed 24 Nov. 2019].
Holliepaxton.com. (2020). Hollie Paxton | Designer maker. [online] Available at: http://www.holliepaxton.com/ [Accessed 26 Nov. 2019].