Many heirlooms have sentimental value but we store them safely without wearing them because they don't fit, are broken or don't suit our style. While some old items have no sentimental value, others are deeply personal and emotional. Redesigning these items can create modern pieces you can enjoy. There are even solutions for non-jewellery wearers.
What is an heirloom?
The word "heirloom" seems to be used interchangeably with "heritage" in some parts of the world to mean items of value which have been passed down the generations.
Clients mostly bring me heirloom jewellery, but I have also worked with tea services, watches and even a book and a sewing machine bobbin!
Experience has taught me that a sentimental item, even when the client acquired it when they were younger, is an heirloom, because it will be passed to future generations and this emotional value often exceeds the item's financial worth.
But not all jewellery has a sentimental value and some jewellery has an extremely high monetary value which must be preserved. In these cases the design approach needs to be different.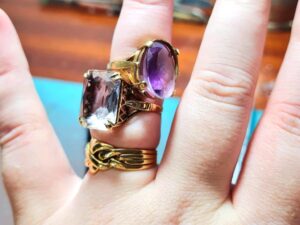 It is a powerful visual connection which triggers a sentimental response. A memory of a loved one, a special place or moment in time, which is so closely associated with the items I work with.
Jewellery Designer or Jeweller?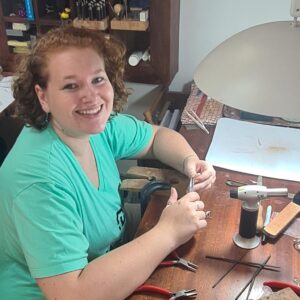 It was only after researching heirloom redesign that I realised I was offering an unusual service, probably because I am very unusual in the jewellery world. This is because I am both a trained jeweller and a designer, with a Degree in Jewellery & Metal Design.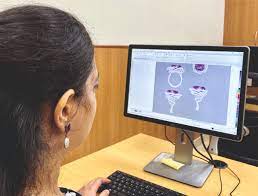 I keep those visually important parts of old items and develop designs to include them, which is a challenge for modern designers who work on computers. Without a knowledge of how old pieces can be physically merged with new elements, there are too many uncertainties.
Jewellers, on the other hand, have the expertise to blend jewellery but very few of them are trained designers. You will probably get what you ask for but working with a jewellery designer is more likely to give you that wow factor.
The designer's role is to create something exclusively for you, which expresses who you are without you needing to say a word.
The result is that both professions will usually break down old items to start anew. If there is no sentimental value this is a good solution. But if a gemstone setting or signet ring engraving holds an important memory, then these will be lost unless you find someone who listens to your stories and understands which parts of the piece are important to you.
The 5 Things You Need to Consider When Redesigning Your Heirloom Jewellery
This short video is packed full of content. It takes you through the 5 main areas you should consider before you commit to redesigning your heirlooms.
It will help you assess your heirloom both from the position of value and condition. I guide you in how to choose the right person to work with and explain how to collaborate during the design process. It is always important to know and communicate your budget but I explain how this can be stretched and how recycling old items is both a sustainable and cost effective solution
Preserving Memories and Emotions with a Modern Twist
This video takes a more in depth look at how to preserve your memories when you redesign heirlooms and how to still get a modern wearable design you will love. You'll also see some recent commissions and hear directly from my lovely clients about how we have accomplished this together.
Addressing Common Concerns
In this video I address common concerns that my clients have had as they started on their journey to redesign heirlooms. I hope it puts these concerns into perspective and debunks some myths.
It is important you feel safe throughout the process because gold and gemstones can be replaced but memories cannot. They are very precious.
Next Steps
If you have any specific questions please contact me. I offer a complimentary consultation with no commitment.
In the Menu you will also find Jewellery Guides where you can also request a copy of my Heirloom Redesign Guide.